In his State of the Union address, President Obama mentioned some impressive and important facts about his administration's accomplishments over the last several years. One particular statistic stands out: illegal border crossings are the lowest in 40 years " since 1972. CNN also published an interesting article regarding this exact topic.
I've been keeping a close eye on how Comprehensive Immigration Reform unfolds, and doing extensive research of my own. After all, President Obama has to get his facts from somewhere.
The number of immigrants in the U.S. has decreased since 2007 by 900,000 people " which means that almost one million people have left the U.S. in the past five years. Some of that can be attributed to less migration from Mexico to the U.S., as well as the decrease in the U.S. birth rate. However, President Obama attributes this decrease to increased border patrol officers.
In the past 40 years, the number of border patrol officers has increased dramatically. The U.S. Customs and Border Protection website publishes various statistics that date back to 1925. It's difficult to compare border security between the mid-1920s up to 2012. However, if you compare border security from 1993 to 2012, it's easier to see a trend.
Below are two graphs showing what may be the ultimate cause of the decreased illegal border crossings.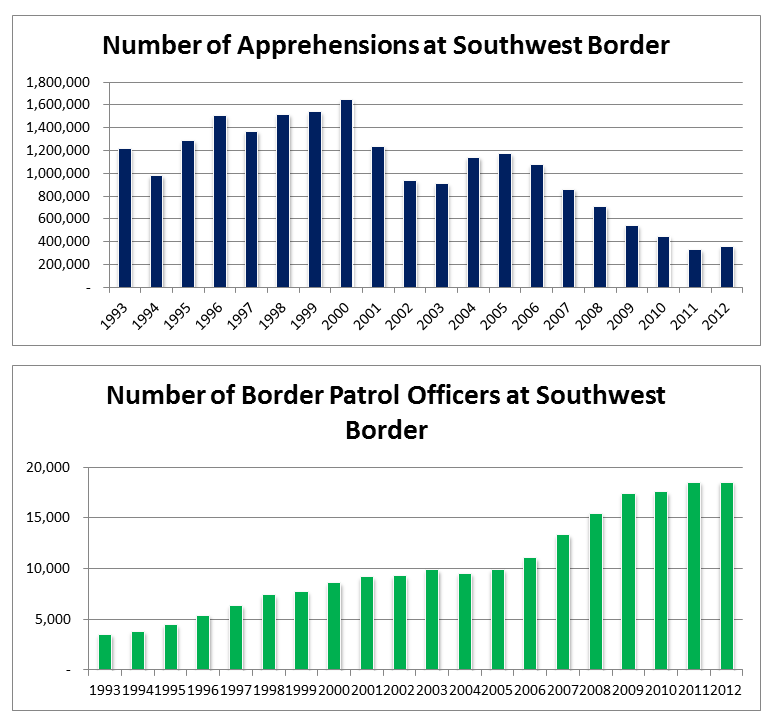 The number of apprehensions at the Southwest border (between the U.S. and Mexico) has drastically decreased from 1,212,886 to 356,873. And that decrease directly correlates with the number of patrol officers on that Southwest border.
Do you agree that increased patrol officers are reducing the number of apprehensions at the southwest border, or do you think that simply less people are migrating?